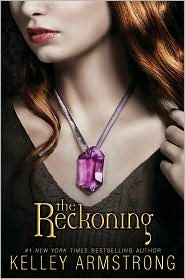 Finally, I've had time to finish up
The Reckoning
by Kelley Armstrong, the final book in the
Darkest Powers
trilogy.
Chloe and her supernatural friends seem to have finally found refuge, but nothing is as it seems. Now they have more than Edison Group to worry about; there are more powerful things to fear. It is never certain as to who should be trusted and who they should run from, and the mysteries only become cloudier.
Meanwhile, all of her friends and their relationships are changing. As they make plans to escape, fight, and search for answers, Chloe is also trying to distinguish the difference between her feelings for Simon (a sorcerer), and her feelings for Derek (a werewolf) while she helps him make the Change into a wolf.
All of this chaos makes
The Reckoning
a page-turner with almost too many twists and turns.
First of all, I'm happy to report that none of the characters annoyed me this time! In result (and many other reasons), this is definately my favorite of the trilogy. I never knew what to expect, and didn't really care if Kelley Armstrong's writing was on the fence at times because I was so into the ever-entertaining storyline.
Yes,
The Summoning
and
The Awakening
went along with plenty of action, but that's nothing compared to this. Each time you expect Chloe and her friends to have a working plan, a big roadblock pops into the storyline. I was beginning to wonder if anything was to be resolved by the end of the book, and I was somewhat right to wonder. It's not a perfect happily ever after where everything is resolved. Life never has one of those; life goes on - so why should this trilogy? The ending may not please a large audience because of this, but I really liked and appriciated it. So maybe Chloe's life isn't perfect and still has unresolved issues, but at least she finally looks at her life in a positive way. She finds herself content with everything the way it is, and wouldn't change it for anything. It was the perfect note to end the
Darkest Powers
trilogy.
4/5 stars