It's Tuesday, everybody! Time for Top Ten Tuesday, a lovely meme hosted at
The Broke and the Bookish
. Today we were given a Christmas topic:
Top Ten Books I Wouldn't Mind Santa Bringing
1
House of Leaves by: Mark Z. Danielewski
I just discovered the existence of
House of Leaves
this past month. One of my friends got a copy and let me look at how unusual it is. The text is organized in all sorts of ways, whether there's one word on a page, one sentence scattered on a page, the text forms a geometric shape, the text is vertical, the text changes sizes, the text changes colors, random words are capitalized... It's so cool! And from what I read about this book online, it sounds like a complete clusterfuck... I have to read this.
2
A Million Suns by: Beth Revis
I need more of this wonderful trilogy! The first book, Across the Universe, had a very satisfying ending despite letting readers know that there'd be more to look forward to, so I'm not entirely sure which direction this sequel will take. All I know is that I must see how Amy and Elder manage more time on Godspeed after all that has happened. It'll also be interesting to see how their relationship develops since Beth Revis is taking that element steadily. I can't wait!

3
The Killing Moon by: N.K. Jemisin
No, this isn't just on my list because of the beautiful cover... The beautiful cover is just what made me want to read the description on Goodreads. The Killing Moon is the first book in the Dreamblood series, and the fantasy setting is what's really drawing me in. It's been too long since I've read a good fantasy, and I have high expectations for this one.
4
Revealed by: P.C. Cast and Kristin Cast
This is the second-to-last book in the House of Night series, which I can never have too much of. I won't bore you all with reasons why I love this series; I will have brought it up at least twice this month before the end of the year anyway. Even aside from me wanting to know what happens next to our loveable characters, I must admit, I also think this one will look quite fabulous on my bookshelf. This is the best House of Night book cover in a while, in my opinion.
5
Cloud Atlas by: David Mitchell
It's called Cloud Atlas; it has to be good with a cool title like that. I've always been intrigued by the pretty cover and the synopsis, but lately I've been drawn to Cloud Atlas because everyone seems to think it's confusing. I want to see what all the craze is over and why people have been so baffled by it.
6
On Writing: A Memoir of the Craft by: Stephen King
Just about everybody is saying that every writer should read this book from legendary horror story master Stephen King, and I'm definitely going to heed the advice. While I certainly haven't loved every aspect of Stephen King's writing (or stories in general), the guy is pretty good, and he's written about a million books by now. He's basically an expert. And I've never read any books like this before; I really should start.
7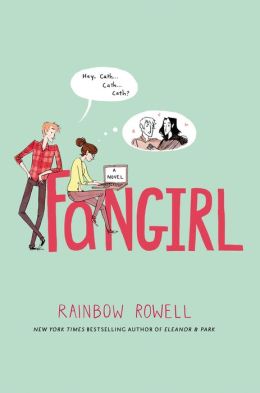 Fangirl by: Rainbow Rowell
This looks like a relatively cute contemporary. After hearing so many good things about Rainbow Rowell's Eleanor and Park, I'm determined to read one of her books. I figured I'd start out with Fangirl since it, well, deals with some fangirling. A lot of the contemporary novels I read are extremely depressing, so I'm expecting that this one will have a lighter atmosphere.
8
My Life Next Door by: Huntley Fitzpatrick
Another contemporary! I've been really curious about this one for a while. I guess in some ways, it sees like a fluffy romantic contemporary, but I'm also really interested in the family aspect of the novel and how it will be handled. It just looks so good!
9
The Book Thief by: Markus Zusak
This book looks like it's right up my alley, though I must admit I'm intimidated by it. I just know I'll cry. And people keep going on about how Death is the narrator or something. I'm not sure how this exactly plays into the story, but it sounds really deep. I really need to read this once I think I can muster up the emotional stability... Or just save all the sad books for vacations so I can cry and think about it all I want.
10
Clockwork Angel by: Cassandra Clare
Even though I haven't read the Mortal Instruments series, I'm quite interested in the Infernal Devices trilogy. It just looks very appealing and I've heard that it isn't necessary to read the Mortal Instruments books prior. But, I'm also becoming sort of interested in the Mortal Instruments. Sort of. I tried reading it a few years ago, but I was distracted with other books and wasn't feeling the first chapter (which is no way to judge a book). I'm not entirely sure why I'm gravitating toward this trilogy, but it just looks so intriguing.
A very fine looking bunch, if I may say so myself. Let me know what you think of my wish list and show me yours! In the meantime, I hope you all have a fantastic holiday, and hopefully we get some of the books we're asking for.