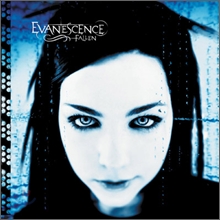 "Now I will tell you what I've done for you" is the opening line to
Fallen,
which makes it sound as if Evanescence's lead singer, Amy Lee, is about to tell a story. "Going Under" is the starting song, and Amy's voice goes very low and quite high in this song, as well as the rest of the album. "Going Under" was a great pick to begin the album.
Next comes "Bring Me to Life", a duet with the lead singer of the band 12 Stones. This track begins with piano and cresendos into a new sound, filled with booming guitars, Amy's strong voice, and Paul's vocals (that are more like rapping). The sound remains similar, though not as deep or dramatic, into "Everybody's Fool". The lyrics are angrier, but still incredible. And, as usual, Amy's voice stands out above everything else.
The next song is a slow one, the main instrument being the piano. It turns out Evanescence can make acoustic music with as much brilliance as their heavier tracks. "My Immortal" is sad, and seems to revolve around death and loss... but at the same time it is about something, or someone, that lingers.
Creepy and snythesized effects come next in the song "Haunted". Amy's voice seems to be sewn into the first couple of lines, and then BOOM! All of a sudden, the music is loud and the guitars are back. Unlike the other songs, the drumline in "Haunted" really sticks out.
An airy intro leads into the following song, "Tourniquet". This may be one of the darkest songs from
Fallen
. After all, it is a song about suicide. Amy Lee's voice soars and carries the music behind it. At some point, she surprises us all by screaming "I want to die!" The string outro from "Tourniquet" leads straight into "Imaginary", one of the best and most influential songs from
Fallen
. The guitar riffs are melodic and unearthly, and as usual, Amy's voice is delicate, yet so powerful at the same time. Nothing could ever break such an amazing voice.
"Taking Over Me" is about obsession. The effects behind Amy's voice are electric as her voice sounds the desperate lyrics. It is not the best from
Fallen
, but it is still amazing nontheless.
Now we dive into "Hello", a much different experience than the earlier tracks. For nearly the whole song, all the listener hears is Amy's piano and voice. This song holds so much meaning, so much despair, it should be no surprise that it was written about a tragedy that effected Amy Lee. Everything about this song is beautiful.
The tenth track is called "My Last Breath". It is particularly deep, and the most romantic song on the album. It is heavy and melodic, as most of the album, but there is something special about it within the lyrics and melody.
Last comes "Whisper", the darkest and heaviest song from
Fallen
. The opening guitar riffs are like classic Evanescence, edgy and awesome. Every lyrics is dark as a pit, but sung so gracefully, which helps to make it one of the most epic songs I've ever heard. A fabulous ending to the masterclass album.
Truth to be told, Evanescence is my favorite band, and
Fallen
is one of the best albums I've ever heard, if not the best. I love this album more than I could ever tell you; it means so much to me, and is truly extraordinary.
Epic, beautiful, and emotional, with a hard rock/symphoniac/electronic sound.
5/5 stars.