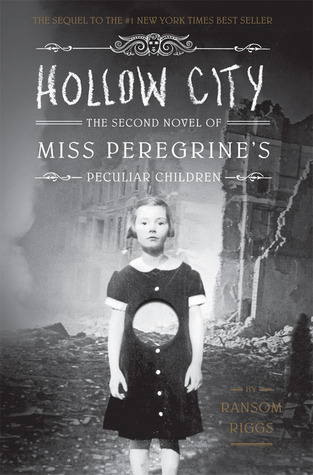 *This review will likely contain spoilers for those who have not read Miss Peregrine's Home for Peculiar Children.
Hollow City is the second installment in Ransom Riggs' Miss Peregrine's Peculiar Children trilogy, which fuses strange vintage photographs into the reading experience. Jacob and his peculiar new friends are on an urgent and dangerous mission: They must find a way to help Miss Peregrine return to her human form, and quickly - but that isn't the easiest things to do in 1940s Britain. The Nazi army keeps dropping bombs as monstrous hollow and wights chase after the children. As they move along their journey, they have to make decisions concerning their ethical standards, and ultimately, what they are willing to fight for.
Despite the fact that Miss Peregrine's Home for Peculiar Children really impressed me when I read it years ago as well as when I reread it earlier this year, Hollow City wasn't as easy to appreciate. I read the beginning and ending rather quickly, but the middle took a while for a few different reasons. To be completely honest... I guess I just didn't expect this entire book to deal with trying to save Miss Peregrine. I guess I thought that would take one third of the book and then the plot would get bigger. So there's one issue. And I will freely admit that by the time I reached the halfway mark I was at an exciting time in my personal life that made this novel seem a little dull by comparison (and I think this is the first time in my whole life I can say this lovely phenomena has happened). But perhaps the most prevailing issue is that despite the singular plot goal, I just didn't feel like all the obstacles the children faced truly tied together. It felt less like plotting and more like 'let's put in obstacles to make the book longer' at times. Placing so many moments where Jacob reflects on how everything is so crazy compared to his old life also gave me this vibe.
However, I did not dislike the book overall - my feelings are generally mixed. It certainly had some good qualities. Once again I appreciated the use of old photographs to enhance the story and the fact that it takes place in the dark WWII-era Britain, and even though Jacob and Emma's romance was underplayed in many respects, I liked that Riggs kept it innocent and fluffy. Plus, I think all the abilities are really cool - especially the ones that Emma, Althea, and Olive have. Even aside from their peculiar abilities, some of the characters warm my heart... Olive is just the sweetest thing and I love how motherly Bronwyn is with her friends!
But what truly made me like this book better by the time I reached the end are the twists. A few things are either discovered or occur that I never saw coming - I gasped at a couple moments. And the cliffhanger! It was a bit of a frustrating place to leave us hanging, but I thing Riggs built a solid foundation for the trilogy's conclusion, Library of Souls, which just came out this year. I anticipate that it will be the most action-packed of the series if this is going where I think it's going.
Hollow City, in short, has some prominent good points and prominent not-so-good points. I wish I could have liked it as much as the first installment of Miss Peregrine's Peculiar Children, but I'm hopeful for the next book, Library of Souls.